Tour of Fyn - Denmark´s romantic heart
8 days / 7 nights - Approx. 215 kms cycling
The island of Fyn is often referred to as the garden of Denmark. Renowned for its fruit there might be something to the talk about this wonderful island. Fyn is also in the centre of Denmark, making the island very accessible from both Copenhagen Airport and with the train directly from the rest of Europe. 
South of Fyn lies the archipelago with small picturesque islands connected by ferries, offering both a break in the bike riding and also an experience of being off the beaten track where time and fastness is not that important.
The landscape is really welcoming and scenic with a good variation of flat distances and gentle hills. 
Our tours start in Odense, Denmark's 3rd largest city. Odense is very accessible by car and train. There are direct train connections to the airport in Copenhagen (1½ -2 hours), making transfers easy and comfortable.
We offer a 7-night tour, including accommodation, luggage transport, hotline and mechanical service, maps and road books and the possibility for bike rental. 
The tour also visits the island Aeroe (Ærø), where you would take the ferry from Faaborg to Søby (Soeby), bike to Ærøskøbing (Aereskoebing) and take the ferry to Svendborg. An alternative to the ferries and the visit to Ærø is to bike directly from Faaborg to Svendborg – approx. the same distance, but saving the time and costs of the ferries. 
Sign up/Dates/Prices
Sign up
Mail. info@danishbiking.dk
Tlf.: +45 4026 4046
Departure dates 2021
Every Sunday from June 6th to August 22rd.
Prices
Adults
Single room - 1095,00 EUR
Double room - 865,00 EUR
Additional price from 27.06 - 29.08
- 90,00 EUR
Children
(based on stay in extrabed in parents room, max. 2 children (0-12 years) per room) – 8 days / 7 nights. According to availability. 
0-3 years - 0,00 EUR*
4-12 years - 495,00 EUR
Additional price from 27.06 - 29.08
- 80,00 EUR

*Extra payment for e.g. breakfast and/or baby cot is to be paid directly to the hotel 
Day 1 
Arrive on your own to Odense and prepare for a relaxing and exiting tour. If you have booked a rental bike you will find it at the hotel. Tonight you stay in Odense. 
Day 2 
Odense – Assens (approx. 45 kms) 
Odense is the capital of Fyn – and also well known as the birthplace of author Hans Christian Andersen. It is worth to have a stroll around the city. From urban environment out into rural landscape on minor roads, starting to experience the idyllic scenery of Denmark's garden. Today you end up in Assens – a charming old town on the west coast of Fyn overlooking Lillebælt (Small Belt) and the hometown of and art museum and the old grocers house Willemosegaarden. 
Day 3 
Assens – Faaborg (approx. 40 kms) 
Heading southeast towards the "Alps of Fyn" todays route gives you both very nice looks over the water and also comfortable challenges in the gently hilled landscape. You pass manor houses and century old churches and approaching your destination – the old harbour town of Faaborg – you start overlooking the archipelago of south Fyn, where you might spot a local ferry or the sail of an old wooden ship. Faaborg itself offers small streets to stroll and old houses to create a very specific atmosphere. 
Day 4 
Faaborg – Ærø (Aeroe) – Svendborg (approx. 25 kms) 
Today it's your turn to literally experience the archipelago: you start of with the ferry from Faaborg to the island of Ærø (Aeroe). The trip lasts one hour and you can enjoy the beautiful scenery while arriving "the proper way" to a real island: by boat. Landing harbour on Ærø is Søby (Soeby) from where you follow small roads to the fascinating town of Ærøskøbing (Aeroeskoebing). Old houses and cobble stoned streets awaits you – along with an interesting history. Remember your camera! From Ærøskøbing you take another ferry back to Fyn and arrives at Svendborg, where you stay 2 nights. An alternative to the ferries and the visit to Ærø is to bike directly from Faaborg to Svendborg – approx. the same distance, but saving the time and costs of the ferries. 
Day 5 
Svendborg 
Svendborg is the maritime centre of Fyn. Just next to the quay of the ferry from Ærø is "Træskibsbroen" (the wooden ships bridge), where you can be lucky to see a very fine collection of old wooden ships. The city itself offers shopping, attractions, restaurants – and of course a variety of bars, as it is still a lively seaman's town. You might also take a daytrip in the surroundings – and maybe visit the castle Egeskov, hosting a fine collection of old cars and aeroplanes. 
Day 6 
Svendborg – Nyborg (approx. 45 kms) 
From Svendborg and north the water on your right hand changes it's name to Storebælt (Great Belt). Often you see small stalls along the route selling local fruits and vegetables. Again you pass impressing old manor houses – and arriving in Nyborg you see the Storebæltsbroen (Great Belt Bridge) – not long ago the longest spanning bridge in the world. Nyborg is your goal for today. 
Day 7 
Nyborg – Odense (approx. 50 kms) 
From Nyborg you head north to the picturesque town Kerteminde. A good choice could be to visit the Fjord & Bælt-center ("Fiord and Belt Centre") – or maybe have an ice cream at the harbour – before you head back for Odense, enjoying even more beautiful scenery, timbered houses and lovely gardens on the way. 
Day 8 
Time to travel home – or maybe to extend your holiday with a day or two extra in Odense – or maybe in Copenhagen.
For guidance only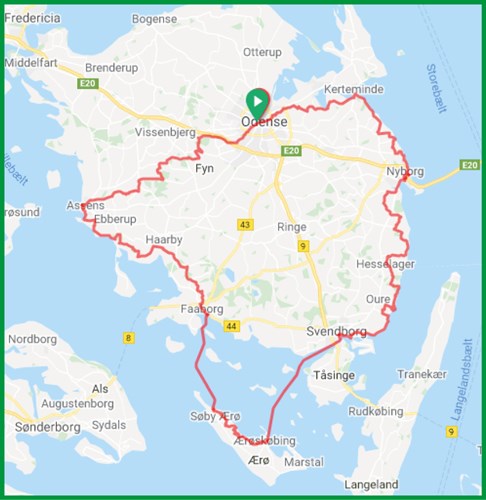 Arrival/Parking/Transfer 
Plane: Copenhagen Airport (Kastrup), trains run regularly directly to Odense 
Rail: Odense Central Station 
Parking: There are parking facilities in a parking house just next to Odense Central Station. 
Price: approx. DKK 375 / € 50 per day
In addition there are free parking possibilities in the streets near the hotel
Included
7 nights in 3-4 star hotels inclusive breakfast 
Rooms with shower or bathtub and WC 
Luggage transport between hotels 
7-days hotline service 
1 x route description/road book and maps per room
Bikes
Rental bike with pannier - 125,00 EUR
E-bike - 250,00 EUR
Additional nights
Copenhagen (Depending on availabity)
Single room - from 150,00 EUR
Double room - from 100,00 EUR
Odense (Depending on availabity)
Single room - from 80,00 EUR
Double room - from 90,00 EUR